STROKE
For Basic Information on Aneurysms and AVM's *** Click here***
For information on emergency treatment of a stroke *** Click here***
CEREBRAL ANEURYSMS
CEREBRAL ANEURYSMS REQUIRE SURGICAL TREATMENT ESPECIALLY IF A RUPTURE AND BLEEDING INTO THE SUBARACHNOID FLUID SPACES AROUND THE BRAIN HAS OCCURRED. MANY ANEURYSMS ARE FOUND INCIDENTALLY. CONSULTATION WITH A NEUROSURGEON IS IMPORTANT TO DETERMINE THE BEST METHOD OF TREATMENT. THE ADVERSE EFFECTS OF BLOOD IN THE SUBARACHNOID SPACE HOWEVER ARE PROBLEMATIC AS VASOSPASM CAN OCCUR REDUCING BLOOD FLOW TO THE BRAIN TISSUE.
THE IMAGES BELOW SHOW UNRUPTURED ANEURYSMS WHICH HAVE NOT YET BEEN TREATED WITH SURGICAL INTERVENTION SUCH AS CLIPPING OR INTERVENTIONAL ENDOVASCULAR SURGERY BY NEURORADIOLOGY.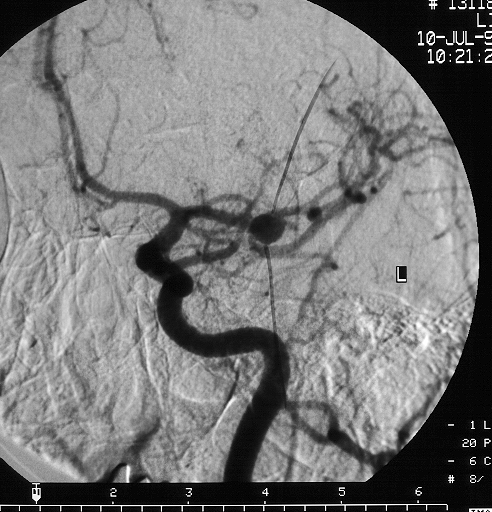 MIDDLE CEREBRAL ANEURYSM LEFT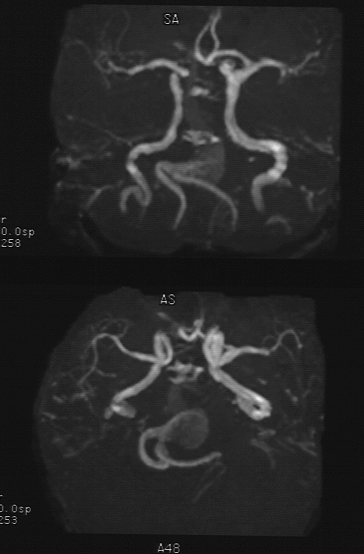 Giant Vertebral-Basilar Aneurysm seen on MRI and MRA of the Brain
THIS IS A FUSIFORM DILATATION OF THE BASILAR ARTERY.