CERVICAL SPINE SURGERY
THE IMAGES SHOW THE PRE-OPERATIVE CT SCAN OF THE CERVICAL SPINE SHOWING A CERVICAL DISC HERNIATION AT THE C5-6 LEVEL WITH EXTRUDED DISC FRAGMENTS COMPRESSING THE SPINAL CORD AND EXTENDING INTO THE RIGHT NEURAL FORAMEN CAUSING NERVE ROOT COMPRESSION.

ALL PHOTOGRAPHS WERE TAKEN WHILE LOOKING THROUGH THE OPERATING ROOM MICROSCOPE.
THE FIRST SURGICAL PHOTOGRAPH SHOWS THE SMALL TEAR IN THE POSTERIOR DISC ANNULAR FIBERS. THE CENTER OF THE DISC, THE NUCLEUS PULPOSUS HERNIATED THROUGH THIS TEAR TO COME IN CONTACT AND COMPRESS THE NERVE ROOT .
<![if !vml]>

<![endif]>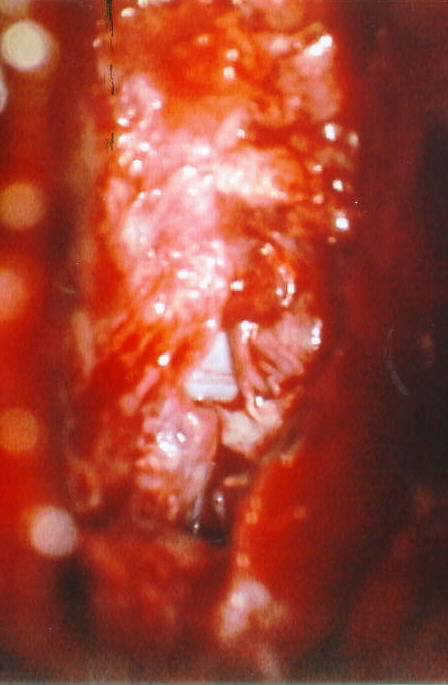 THE SECOND PHOTOGRAPH SHOWS A FRAGMENT OF DISC WEDGED IN BETWEEN THE DISC ANNULAR FIBERS AND AFTER REMOVAL ADDITIONAL FRAGMENTS WERE FOUND WITH CAREFUL MICROSCOPIC DISSECTION WITHIN THE NEURAL FORAMEN OVER THE EXITING NERVE ROOT.
<![if !vml]>

<![endif]><![if !vml]>

<![endif]>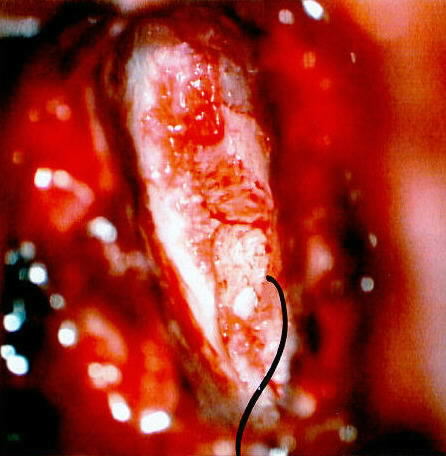 THE THIRD PHOTOGRAPH SHOWS THE ENTIRE DISC HAS BEEN REMOVED AND THE DURA OVER THE SPINAL CORD WAS COMPLETED FREE OF COMPRESSION ACROSS THE ENTIRE DISC SPACE. THE SMALL VEINS OVER THE SURFACE OF THE DURA CAN BE SEEN.
<![if !vml]>

<![endif]><![if !vml]>

<![endif]>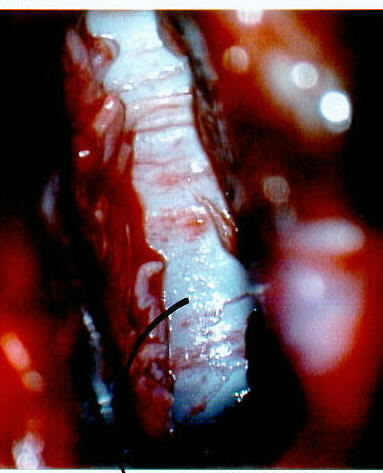 THE FOURTH PHOTOGRAPH SHOWS THE CAREFULLY POSITIONED BONE GRAFT FILLING THE DISC SPACE WHICH SHOULD FUSE WELL UNDER COMPRESSION. ( SEE ARROWS)
<![if !vml]>

<![endif]>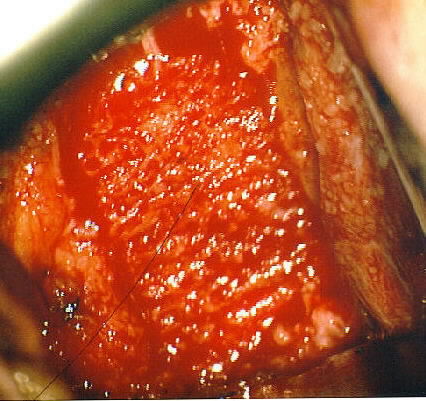 THE X-RAYS BOTH LATERAL AND A-P VIEWS DONE AFTER SURGERY SHOW THE POSITION OF THE CERVICAL SPINE SYNTHES PLATE AND VERTEBRAL BODY SCREWS HOLDING THE BONE GRAFT IN EXCELLENT POSITION AND MAINTAINING NORMAL SPINAL ALIGNMENT.